About
OUR MISSION
The Boulevard Theatre brings intimate, high-caliber theatre to its audience; we specialize in presenting lesser-known works by renowned playwrights and innovative works by emerging playwrights.
Our productions are variously poignant, funny and heart-breaking — but always speak to the ages — as we seek to entertain and engage our audience.
We delight our audience by presenting theatre that celebrates the written word, values intelligence and honors human experience.
We operate through collaboration and partnerships with artists, host venues and other stakeholders.  We are peripatetic; we are not tied to a single performance space and welcome the opportunity to present performances in many neighborhoods.
We are community-inspired, neighborhood-focused, unpretentious, happily idiosyncratic, proud of our Milwaukee resourcefulness, our frugal sensibility and our Midwestern earnestness.
We give established artisans and newcomers alike substantial opportunities for growth in artistic, administrative, and governance roles.
HISTORY OF THE BOULEVARD
Founded by Mark Bucher in 1985, The Boulevard Theatre quickly became the leading place for local audiences to experience critically-acclaimed theatre that showcased new and emerging Milwaukee talent.
Based out of an intimate 50-seat studio playhouse on Bay View's Kinnickinnic Avenue, the theatre was a catalyst for development and transformation in the area both for local businesses and hundreds of talented actors, stage managers, stage crew and directors alike.
After 28 seasons in Bay View, The Boulevard Theatre underwent big changes in 2014, selling its brick and mortar location in exchange for a more nimble approach. Today, our mission and vision focus on bringing the Boulevard name into new neighborhoods in and around Milwaukee – showcasing both new and established talent from the area.
We did not want to fall in love with the bricks and mortar of our theater building – we want to make a more substantial investment in the art we create and the people with whom we engage. This is the vision of the Boulevard's founder Mark Bucher and we can't wait to embark on this new period of growth.
OUR STAFF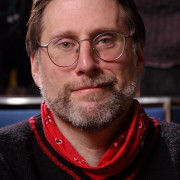 Mark Bucher, Artistic Director
Founder, innovator, plaid-clad Milwaukee theatre icon. Mark Bucher has been seen on and behind the scenes of Milwaukee stages for over 30 years.