Welcome to the Boulevard!
The Boulevard Theatre continues to be the "go to" place for the unexpected and entertaining in and around the city of Milwaukee. Boulevard began a cultural eruption when it opened its doors on Kinnickinnic 30 years ago and the overflow of civic improvement and cultural contributions to both the Bay View neighborhood and the greater Milwaukee community continues to provide fertile soil for new, emerging artists.
With so many theatre companies to choose from in Milwaukee, Boulevard Theatre remains a standout for our continued commitment to community, connection, and innovative creativity on the stage.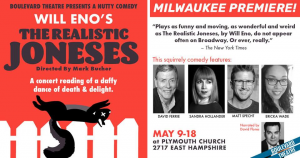 The Boulevard Theatre, Milwaukee's premiere alternative theatre, continues its 33rd season by presenting the WISCONSIN PREMIER of acclaimed New York playwright Will Eno's daffy comedy THE REALISTIC JONESES (Thursday, May 9 through Saturday, May 18, 2019). All performances of this heightened concert reading (90 minutes, no intermission) occur in Milwaukee's Plymouth Church's intimate (second floor) Graham Chapel. Plymouth Church is located at 2717 East Hampshire, one block east of the University of Wisconsin-Milwaukee campus, just off the intersection of Downer and Hampshire. For more information per Milwaukee's Plymouth church, please visit their website:                                 (http://www.plymouth-church.org/home) or their Face Book page (https://www.facebook.com/plymouthchurchmke/).
       In THE REALISTIC JONESES, acclaimed New York playwright Will Eno (author of the plays THE FLU SEASON, MIDDLETOWN, TITLE AND DEED, THOM PAIN) crafts a quirky comedy where the older, ailing "Bob" (Milwaukee actor David Ferrie) and his loyal, exhausted wife "Jennifer" (local actress Sandra Hollander) meet their new younger neighbors: the very unorthodox "John" (Kenosha native Matt Specht) and John's intriguing wife "Pony" (Milwaukee/Racine actress Erica Wade). These two suburban couples have far more in common than their identical homes and their shared last names. As their relationships begin to irrevocably intertwine, the four Joneses must decide between their idyllic fantasies and their rather imperfect realities. Eno's humor and narrative combine to form a playful yet affecting portrait of "love & marriage" that is truthful, insightful, and often quite funny.

Directed by Boulevard Theatre Artistic Director and Founder, Mark Bucher, tickets for this RARE presentation of an uncompromising, comic investigation into the trials, tribulations, and rewards of matrimony (along with the challenges of aging, declining fortunes, and unknown health) become available on Friday, April 26, 2019.
Only six performances are available for this truly exciting premiere:
     Thursday, May 9th @ 7:30pm (Opening)
     Friday, May 10th @ 8pm
     Saturday, May 11th @ 8pm
     Sunday, May 12th @ 5pm (Mother's Day)
     Thursday, May 16th @ 7:30pm  and
     Saturday, May 18th @ 8pm (Final Performance). 
Ticket range from just $10 (advance rate, before fees, purchased online at the Brown Paper Tickets site: https://www.brownpapertickets.com/event/4225947) to $12 (when purchased at the door – cash only).
Due to the intimate nature of the Graham Chapel space, guests arriving at announced curtain times or after those times may be turned away or seated at a suitable break in the action (at the judgement of the house manager). All guests are asked to arrive 20+ minutes prior to curtain times. Street (neighborhood) parking is available and several Milwaukee County Transit bus lines serve the adjacent UWM area.